Most people don't get straight teeth naturally; it takes orthodontics to move teeth to their most ideal positions and to align both teeth and jaws for a great bite. If you want to fix a crooked or misaligned smile, Smart Dental Care has the solution you have been seeking – clear aligners from SureSmile®.
A healthy bite and straight teeth not only improves the appearance of your smile but can also protect your teeth for the rest of your life. When teeth are aligned correctly, they fit together naturally so they won't wear out as fast. This can save you money by making your teeth and dental health last longer. Plus, when undergoing orthodontic treatment, we seek to straighten your teeth in a natural-looking way by ensuring that your teeth are placed in the best way in relation to your smile.
What is SureSmile®?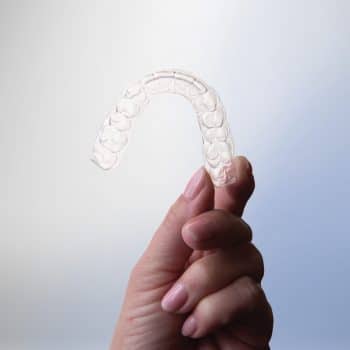 SureSmile® Clear Aligners are orthodontic devices used in place of traditional metal braces to straighten out crooked teeth or fix a misaligned bite. These aligners are designed to ensure they fit comfortably and that they deliver the corrections needed to achieve your ideal smile.
SureSmile combines the physical force of its personalized design and material with advanced digital planning for precise tooth movement. With this nearly invisible technology, most people won't even realize you are correcting your teeth.
At your consult with Smart Dental Care, we use a Primescan intraoral scanner to get a quick and easy digital scan of your entire mouth – no messy molds or uncomfortable x-rays needed! Smart Dental Care and a digital lab specialist to provide the optimal individualized treatment plan with SureSmile Clear Aligners that are custom-made for your specific needs.
What issues can SureSmile correct?
The clear aligners we provide can fix the following issues you may be experiencing:
Gapped teeth
Overbite
Underbite
Open bite
Crowded teeth
Crossbite
The Benefits of Clear Aligners
SureSmile aligners bring a lot of benefits, especially compared to metal braces, including:
Greater Comfort: Clear aligner trays are made out of a smooth clear material and fit closely to your teeth for ultimate comfort. While you'll still feel the pressure from your moving teeth, your treatment is much more comfortable than metal brackets and pointed wires.
Removable: These clear aligners can be taken out for meals and daily cleaning, so you won't ever have to worry about avoiding certain foods or having an unsightly smile for pictures.
Cleaner Teeth: You'll be able to keep your teeth cleaner and healthier during your straightening process with the removable aligners.
Invisible: The clear aligners are virtually unnoticeable compared to metal braces, and most people won't even notice them.
Faster Treatment: The average period of treatment is faster for SureSmile patients than for patients undergoing traditional metal braces treatment. It normally takes just 12-18 months.
For a beautiful, straight smile with a convenient and discreet method, call Smart Dental Care in Holladay to learn more about SureSmile clear braces today!