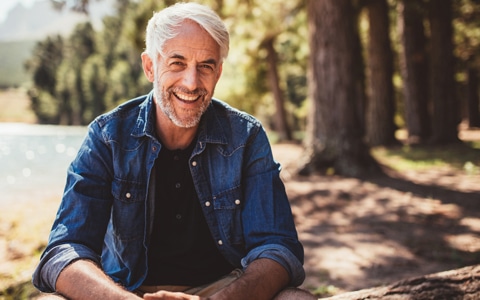 Life is harder if you're missing multiple teeth. It can be difficult to eat and speak the way you'd like, and many people are self-conscious of the way missing teeth can alter their smile or the natural shape of their face. In our office, you have access to an easy solution.
Dentures are artificial teeth that can replace the ones you've lost in a way that's both comfortable and natural-looking, particularly with the implant-retained dentures we can offer. We use implant-retained dentures rather than traditional dentures in order to best meet our patients' needs.
What's the Difference Between Traditional and Implant-Retained Dentures?
Traditional Dentures
Traditional dentures are sets of teeth that rest on top of a patient's gums. These teeth perform the basic functions as needed, but come with a few disadvantages.
Because traditional dentures aren't anchored in place in any way, they can slip in place while you're eating or speaking. These slips can sometimes be uncomfortable or embarrassing. Fortunately, implant-retained dentures are much more stable.
Implant-Retained Dentures
Our patients tend to appreciate this style of dentures because these dentures clip onto pre-existing dental implants. We can place these implants in your jaw in our office, and you'll be able to receive your dentures as soon as the implants have healed.
With this simple attachment mechanism, your dentures will reliably stay in place throughout your daily activities but can still be easily removed whenever you'd like them to be.
Implant-retained dentures make it possible to appreciate the benefits of dentures without the disadvantages. You'll be able to speak more clearly and easily and can have restored confidence in your appearance without any slippage!
Restore the Smile You Love with Dentures from Smart Dental Care!
If you or a loved one could benefit from dentures, contact us today! We are excited to help you restore your smile.