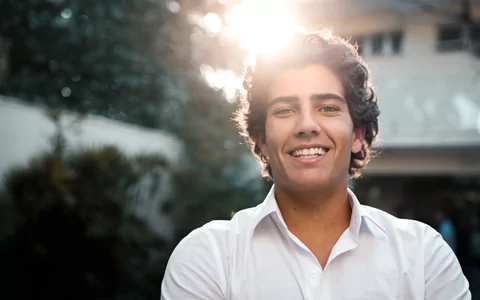 Need a solution for missing teeth?
Biting, chewing, smiling—our teeth are responsible for helping us feel like ourselves every day. Functional and supportive teeth have a dramatic impact on all of your daily activities. A missing tooth can cause ripple effects that cascade into other areas of our well-being. Not only is it embarrassing, but tooth loss can affect your:
Diet.
Social life.
Oral health.
Our dentists have decades of experience helping patients like you take back their lives by providing them with a new smile. We understand the difficulties of dealing with missing teeth and poor oral hygiene, and that's why we believe so strongly in dental implants.
Dental implants are replacement teeth that can transform your life and all other aspects of your oral health. Schedule your appointment today or give us a call to change your life for the better!
When considering dental implants for you, we will explain our treatment, help answer any questions about your particular situation, and describe in greater detail how the dental implant procedure works.
Your family is our family, and we want to help any way we can.
Missing Teeth Can Negatively Impact Your Well-Being
If you're missing any teeth, you hardly need us to remind you of the inconveniences you experience. All of our teeth play significant roles when it comes to eating, speaking, and keeping our mouths healthy. Missing any of our teeth can lead to a noticeable difference in the activities that we once performed with ease.
What you might not know is that if left untreated, the problem can become more aggravated over time and cause other issues. These issues include:
Shifting teeth.
Frequent headaches.
Gum disease.
Shriveled or sunken facial features.
Malnutrition due to inability to chew certain foods.
Lisping or hard-to-understand speech.
Tooth wear as you overcompensate with your remaining teeth.
Deteriorating jawbone from lack of stimulation from the tooth roots.
Renew Your Smile and Health With Dental Implants
Dental implants are replacement teeth that look and feel natural. Over the last few years, they have grown in popularity because they provide reliable results and look amazing. Dental implants help solve many of the issues associated with missing teeth.
Protect facial structure | Your teeth support your jawbone and help keep it active and healthy. Healthy teeth will lead to an active jawbone, which will maintain the shape of your face.
Prevent the loss of your jawbone | A dental implant will stimulate your jawbone and help it remain strong and supportive for your mouth and facial muscles.
Stop your teeth from shifting | Your teeth will stay in the same place and you won't have to worry about overcrowding or filling in the gap of the missing tooth.
Speak naturally | You'll be able to speak intelligibly and have more meaningful and lasting relationships with those you meet.
Improve your diet | When you have all your teeth, it's much easier to get a good helping of all those hard fruits and vegetables like carrots and apples.
Why You Should Choose Smart Dental Care for Your Implants
We pride ourselves on a friendly staff that provides gentle and instructive care. Dr. Ashton and Dr. Nguyen have advanced training in the science of dental implant technology and will help you achieve a healthy, beautiful smile. We use the latest science and dental technology to provide you with stunning and long-lasting results.
When you come in, our dentist will make sure that you are comfortable and relaxed. We'll be with you every step of the way toward your smile transformation. To help you and your family feel like a part of our family, we provide great follow-up care and we are happy to answer any questions that you have during your treatment.
Smart Dental Care Is Here for Your Whole Family
Our whole team has studied for years to perfect their knowledge and skills about placing dental implants. We are the implant dentists of Holladay, and we can't wait to help you and your loved ones get the smiles of your dreams.
We offer incredible service, improved quality of life, and what we hope will become a lifelong friendship because your family is our family.
Technologically Advanced
Dental technology has advanced to the point that you can now have replacement teeth that look and function naturally. And Smart Dental Care is proud to offer up-to-date dental technology to make your treatment faster, more comfortable, and more efficient. Nobody will be able to tell that you have implants, and you can feel confident that you have sturdy and reliable teeth.
Schedule an appointment to discuss your options for dental implants today!
Patient Reviews
I've been a patient at Smart Dental Care for 30 years. Dr Ashton and his staff are really great! They are so friendly and caring. I felt like they valued my time and money. I had a molar break and they were able to get me in quickly and fit me with a crown. I will be recommending Dr Ashton to my friends!
Sallie B.
How Does the Dental Implant Process Work?
Consultation
When you come into our office, our dentist will take some time to get to know you and your situation. Our team will give you x-rays and a scan of your teeth that will help us get a better idea of what we're working with.
We will examine the strength of your gums and your current dental history. This will help us determine how likely it is that an implant will be successful. We will also assess whether other work will need to be done before the implant including:
Bone grafts.
Extractions.
Gum disease treatment.
Receiving Your Implant
If no other preparation procedures are needed, we will schedule your implant procedure for a few weeks after the initial consultation. During this appointment, we will numb your mouth and make sure you are comfortable. Then we'll insert the implant directly into the jawbone. This process will usually only take a couple of hours.
Healing and Osseointegration
Healing usually takes a few weeks after the implant procedure. This healing time is important both for your health and because the implant needs to fuse with your jawbone in a process known as osseointegration.
Once the implant has bonded with your jawbone, it will have the security needed to support a new tooth. After a few months of healing and osseointegration, we'll schedule your next visit.
Receiving Your Abutment
During this next appointment, we will attach an abutment to your dental implant. The abutment is a small connecting piece that sits on top of the dental implant so that it is visible above the gumline. This is the piece that will hold your replacement tooth!
Receiving Your New Tooth
Last, we will place your beautiful new tooth. This tooth is custom-designed to look natural so that it blends in seamlessly with your other teeth. It will be the perfect addition to your brand new smile! At Smart Dental Care, we offer two kinds of implant tooth replacement:
Dental Crown: A single tooth attachment.
Implant-Supported Dentures: A larger fixture that can replace most or all of your teeth.
Making Your Smile Unique
Everyone's situation and oral health vary, therefore everyone's treatment and timeline differ. We craft each of our replacement teeth with care using the CEREC cad/cam system to create beautiful, personalized crowns right here in our Holladay office.
Not only can you improve your quality of life by getting a full smile back, but at Smart Dental Care, you'll get unique dental implant care that caters to your needs and your smile.
Dental Implants FAQ
How Much Do Dental Implants Cost?
Because missing teeth can be detrimental to a person's quality of life, we want to make dental implants as accessible as possible for our patients. That said, dental implants are an investment in your future oral health.
Dental implants are one of the most sturdy and long-lasting tooth-replacement options out there. When you buy a dental implant, you could very well be buying the last replacement tooth you'll ever need. That kind of durability is worth the cost.
Our practice accepts many insurances, and our office receptionist will help you answer any insurance or billing-related questions. When you come into our office for your consultation we can review your coverage and provide detailed answers for what payment will look like.
We also provide a payment plan through CareCredit Healthcare for customers that are looking to pay in installments. This way, you can still have wonderful teeth without having to delay your treatment.
Are Dental Implants Painful?
One of our patients' primary concerns is comfort. At our office, you can expect a premium level of care in a comfortable, relaxed, and family-friendly environment. When you come into our office we will help answer any questions that you have to set your mind at ease.
We use anesthetics throughout the entire dental implant procedure to make sure that you will feel as little pain as possible. We will check in with you during the different stages of the procedure to make sure that you are feeling good. We are happy to make any adjustments if desired.
During the healing process, there will be some discomfort. You can manage this pain with ice packs, soft foods, and over-the-counter medications like Tylenol. Our dentist may also prescribe extra pain medicine or antiseptic mouthwash to promote a speedy and painless recovery.
How Long Do Dental Implants Last?
Dental implants last an incredibly long time; they are meant to be an integral part of your mouth. With the proper care, your implant can last 20–25 years. Your new implant is designed to withstand all of the wear and tear of daily use. You can smile, bite into your favorite food, and eat your favorite chewy dessert.
For your implants to last this long, you need to take proper care of your teeth and always maintain proper oral health. Brushing and flossing are essential to keep your gums healthy and your implant in place. You should also come check in with us every six months for a regular cleaning and dental exam.
Will Dental Implants Work for Me?
Before you receive your implants, we will schedule a consultation to make sure that you are a good candidate for dental implants. In general, these qualities make patients well-qualified for implants:
Tobacco-free | Smoking will cause severe long-term damage to your teeth and gums. This can make it difficult for the implant to bond with your mouth. Non-smokers are usually better candidates for dental implants.
Good oral health habits | If you practice bad oral health you run the risk of recreating the same conditions that caused tooth loss in the first place. Daily brushing and flossing can improve your likelihood of a promising outcome with dental implants.
Healthy gums and jaw | During the consultation we will take a look at your gums and jaw to make sure that they are healthy enough to receive an implant. If they're not, it's okay! Bone grafts are available for patients whose bone density isn't what it needs to be.
How Should I Prepare for Dental Implants?
One of the best ways to prepare for dental implants is by following a good oral health routine. This will keep your gums healthy so that they are in good shape to receive the implant. You should also stock up on soft foods, as you will want to eat these for the week after the procedure as your gums heal.
You might want to consider taking it easy for the next couple of days after your implant surgery, including taking several days off of work if necessary. Get a proper night's sleep before the procedure and eat a healthy meal before your appointment.
How Do I Care for Dental Implants?
After your implant has been placed make sure to take the following steps to minimize discomfort and promote a long-lasting smile:
Eat softer foods for the week following surgery | While your mouth is healing it will feel more comfortable to take it easy on your teeth and eat your favorite soups, yogurt, or smoothies instead.
Take medication as prescribed | Our dentist might prescribe pain medication to make the healing process more comfortable. If they do, make sure to follow the instructions given.
Follow the oral health routine that we prescribe | If we prescribe a special mouthwash or special rinsing instructions make sure to follow them to expedite the healing process.
Make a habit out of dental hygiene | Brushing your teeth twice a day and flossing at least once can keep your dental implants healthy and in good condition so that they'll last you for many years.
Ready to Schedule Your Implant Consultation? We're Ready for Your Visit!
It can be painful and discouraging to not have the smile that you want. We know that a missing tooth can negatively impact your oral health and daily activities. If you're struggling with a lack of confidence, proper nutrition, or difficulty speaking clearly due to missing teeth, try dental implants; they can change your life.
Schedule an appointment with our office today. Let's make your ideal smile a reality!