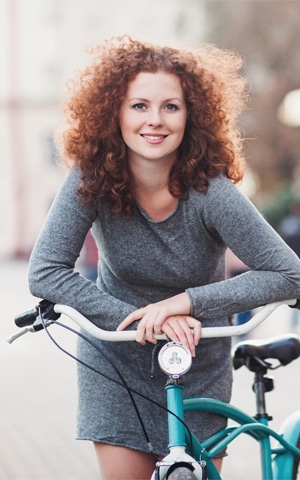 It's an unfortunate fact that over time, teeth naturally discolor. Lifestyle can play a role in this discoloration—smoking and colored foods and drinks like coffee, wine, and soda, for example, will often make your teeth discolor faster—but over time everyone's smile tends to get a little less bright.
Luckily, we have a convenient, effective solution that can erase discoloration and give your smile a lift—Ultradent whitening. This professional-grade whitening system can be done in our office or in the comfort of your home. You'll be able to choose whichever method best fits your schedule and preferences!
In-Office Whitening
If you would rather have a professional handle the details of your whitening, we can easily perform the whitening procedure right here in our office.
We will apply a whitening gel to your teeth, allow it to sit for the required length of time, and then remove it, all while you sit back and relax. Your teeth will shine afterwards!
At-Home Whitening
Many people struggle to find the time in their schedules to visit the dentist's office. We understand, which is why we are happy to provide the same professional whitening in take-home kits for anyone who wants the benefits of whiter teeth on their own schedule.
Our staff will walk through the whitening process with you to make sure all your questions are answered, and we will give you the trays and whitening materials you need to be on your way. You'll be able to experience professional-grade results in your own bathroom!
Look Even Better for Your Next Family Pictures with Smart Dental Care Whitening!
Even if you don't have obvious discoloration, your smile can still benefit from a whitening. You'll be surprised by how much of an improvement whitening can provide. You'll be able to smile for your next picture with that much more confidence!
Contact us today to schedule a whitening appointment, or to learn more about our take home options!