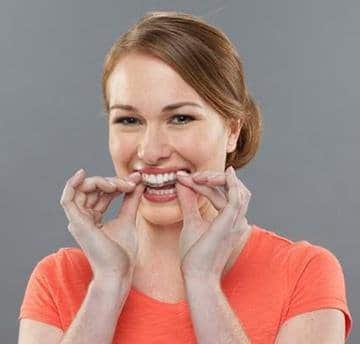 For years, teens and adults have relied on traditional metal braces to straighten their teeth. However, the cumbersome metal and uncomfortable wires can often make patients feel self-conscious and awkward, making the journey to a straighter smile an unpleasant one for many.
Invisalign clear aligners offer an advanced alternative to typical braces with comfortable, invisible trays that straighten your teeth without painful metal appliances. This system is popular for its simplicity, as it gives patients a way to achieve the straight smile they've always wanted without bands and metal brackets.
At Smart Dental, we offer award-winning Invisalign treatments to patients with a variety of smile concerns. If you're considering Invisalign for your smile, there are several things you should know before starting treatment.
1. You Wear Them Most of the Time
One of the primary advantages of the Invisalign clear aligners system, especially over typical metal braces, is the ability to remove them. Though you can take them out of your mouth, it's still incredibly important to wear them for the vast majority of the time. Once removed, it can be easy to forget to put them back in. However, for ideal results, your clear aligners should be in place for at least 22 hours a day.
Here are a few examples of times it's okay to remove your aligners:
While eating meals.
When chewing gum.
When playing contact sports.
While playing a wind instrument.
2. Treatment Time Varies From Person to Person
The majority of patients undergo Invisalign clear braces treatment for about a year, but the duration of your treatment will depend on your unique smile. Some patients may graduate from clear aligners to a retainer in less time, while others have an extended treatment plan that could take longer than a year. Only you and your dentist can determine how long your treatment will take to complete.
3. You Must Remove Them to Eat
Unlike traditional braces, there is no list of foods to be wary of with the Invisalign system. You can continue to enjoy all of your favorite foods without worrying about getting any sticky or hard-to-remove foods in between any metal brackets or wires.
However, because you may grow accustomed to the aligners on your teeth, some patients forget to remove them before mealtime or when chewing gum. Always take them out before eating or chewing to keep the aligners in great shape.
4. Excellent Dental Hygiene Is Crucial
With clear aligners, there are no extra tools or added steps to your typical dental hygiene routine. However, it's especially important to do a great job at brushing and flossing your teeth.
Any food particles left on or between your teeth when you replace your aligners after a meal can cause food and bacteria to get trapped on your teeth, risking accelerated plaque buildup. Even a few bites of food can leave debris behind, so be sure to clean your teeth and your aligners before putting them back in every time.
5. They're Surprisingly Comfortable
Invisalign's clear trays are invisible and nearly undetectable when worn, which makes them an ideal choice for those who don't want any major hardware in their mouth while undergoing orthodontic treatment.
Though you may experience some mild discomfort at the start of your Invisalign treatment, most patients forget they're wearing them. This is because each set of clear aligners is custom-molded to fit your unique smile for maximum comfort, so you can wear the trays without major disruption to your lifestyle or convenience.
Try Invisalign Yourself!
Ready to get started on your own Invisalign clear braces journey? Contact the experienced dental staff at Smart Dental to schedule your first consultation appointment.