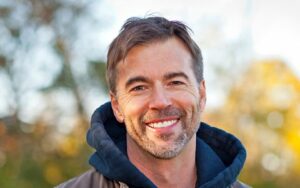 Everyone wants a smile that turns heads by looking stunning. Is your smile falling short of that perfection because of teeth cracked from injury or stained and darkened from tooth infections or aging?
Maybe you've hesitated to get veneers on your teeth because you have seen too many cheap renditions of them in movies that make teeth stand out and look fake. At Smart Dental Care, we offer beautiful porcelain veneers that are crafted to look just like your natural teeth!
What Can Veneers Do?
Veneers can not only help with the cosmetic look of your mouth, but they can also help protect against tooth infection and further tooth damage when used to repair cracks and chips.
Here are some of the many benefits that veneers can do for you:
Brightens Your Smile: If you have multiple teeth that are darkened and resistant to whitening due to tooth decay or damage below the surface, veneers can brighten your whole smile! You can get veneers on all your front teeth and pick the shade of white you want your smile to be.
Protects Against Disease: When your teeth are cracked or chipped, veneers fill in the gaps so that bacteria can't enter into the dental pulp of your teeth. The porcelain material veneers are made from protect your mouth from cavities and infections.
Improves Your Confidence: With veneers you don't have to worry about hiding any dark, stained, chipped, or misshapen teeth when you smile. You can smile with confidence knowing that you have a full bright smile that is there to protect your dental health. You will never have to feel insecure about your smile because the veneers will be crafted exactly to your tooth shape.
Easy Maintenance: Veneers are long-lasting especially with proper care. You don't need any special tools to clean your veneers; just learn to be gentle when flossing. Also, be sure to have your regular dental hygiene appointments and continue your oral care to keep your smile for as long as possible.
How Do We Make Veneers Look Natural?
You might be hesitating to get veneers because you want your smile to look like your smile—not some cheap one-size-fits-all look. We get that! Here at Smart Dental Care, we have two major steps that help your veneers match your smile.
High-Quality Porcelain: First, we make veneers out of strong porcelain that we can color-match to the shade of white that best matches the rest of your natural teeth. In addition, porcelain conveys the same shine and luminescence as your real teeth, so nothing will look fake or stand out in a bad way.
Custom Crafted Veneers: The second quality that helps your veneers look natural is that we'll craft them based on the size and shape of your natural teeth. We don't have any pre-made veneers on hand in our office because we make each veneer to match just one patient.
Will Veneers Work For You?
Veneers are useful for numerous patients and not just people with broken teeth. Maybe you have avoided public speaking or showing full teeth during photographs? Then veneers are a great option for you!
Your smile is a genuine expression of you and how you feel—it should not be hidden out of insecurity when there is a viable and affordable option available to you.
If you have any of these dental issues, you may be a candidate for veneers:
Teeth that are broken, cracked, or chipped.
Gaps between teeth.
Crooked teeth.
Stained teeth.
Veneers can be used to fix cracked or chipped teeth, whiten dark teeth, reshape small or uneven teeth, fill in gaps, brighten a whole smile, or even be used as "instant orthodontics" to straighten sections of crooked teeth.
Say hello to feeling comfortable in your teeth and smile with exceptional veneers and state-of-the-art care from Smart Dental Care.
Find Out If You Qualify For Natural-Looking Veneers
Veneers are more than just for your looks—they can protect your oral health and boost your mental health. Veneers can help you achieve the smile of your dreams and protect your dental health at the same time. Visit our veneers page to learn more about this simple way to renew your smile!